Pusheen is indeed very cute and very creative but also very picky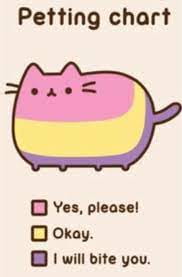 See what I mean.
Anyways pusheen has a family two siblings and a mom and a dad.
#1 pip. Pip is a sweet savanna cat with a dark coffee brown coat.
#2 stormy stormy is a Siberian cat she wants to grow up just like her sister pusheen. stormy enjoys eating her kibbles and sleeping eating and secretly blogging.
Finally her loving mom and dad her mom is named sunflower and her dad is named biscuit.